Wilton bakeware is on sale now at Sears.ca. I ordered some cute little pans for the kids to use in our toaster oven. Two cookie sheets, and an 8" pizza pan (see below). Now the top view may be deceiving, but the bottom view leaves no doubt: this is a PIZZA PAN. They sent me a 2-inch deep cake pan.
And no, I could NOT have made a mistake ordering it, because all I had to do was click "Add to Cart" on the pizza pan webpage; this was no complicated "Order From a Catalogue" thing that required manually punching in sixteen numbers and uppercase letters into a form. And besides which, there was not even a cake pan on sale, at least not on the page from which I ordered. It was simply a case of (yet again), Timpy the (poorly) trained Chimpanzee filling orders at Sears.
Like the time I ordered a Polly Pocket Splashin Fashion Pool Party doll set for Miss P #5's birthday...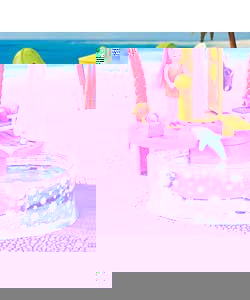 ...and received (I absolutely kid you not, though I wish I'd taken photos at the time) a Size Large Arnold Palmer men's shirt and tie set.
(Not exactly as shown.)
Mrs. B has a plethora of Sears stories too. We'll probably include a chapter about Sears when we co-write our book,
Thou Shalt Not Cough on Thy Neighbour's Grapes: Tales of Family Life
.
Mrs. B Takes Up the Theme
Sears really is the gift that keeps on giving, as long as it's comedy you're after and not, say, the thing you actually ordered. We have on several occasions been sent Christmas gifts through Sears; or at least they were ordered through Sears. One was delivered to the Sears nearest the sender, which conveniently fell within our "Locate Nearest Outlet" search once we extended the radius to 3000 km. Another time I went to my closest store to pick up the pogo stick Mr. B.'s mom had sent her grandson for Christmas. After the clerk had called up the order on her computer she gave me a broad but mysterious smile.
"You'll have to go down to the loading dock for this one," she grinned.
I thought, "That must be one hell of a pogo stick," but instead I just said, "Loading dock?"
"You don't know what the item is?" The clerk's eyes were by this time sparkling with excitement. "This is going to be a nice surprise for you!" She continued clicking at her computer while high-def visions of large TVs danced in my head. It was shaping up to be the best Christmas surprise ever, until she took a closer look at her screen.
"Oh, sorry. That big item is for someone else. Your pogo stick has been recalled."
Well, that took the spring out of my step, but I'm sure the Bozzle family enjoyed their 96" viewing of "How the Grinch Stole Christmas" that year. As for those shirts they sent you, Mrs. P., all I can say is that any Sears employee worth his salt would know that anyone who's into Polly Pocket probably wears Arnold Palmer extra small.
.