In today's Second Reading (Romans 8:31-39)
[31] What shall we then say to these things? If God be for us, who is against us? [32] He that spared not even his own Son, but delivered him up for us all, how hath he not also, with him, given us all things? [33] Who shall accuse against the elect of God? God that justifieth. [34] Who is he that shall condemn? Christ Jesus that died, yea that is risen also again; who is at the right hand of God, who also maketh intercession for us. [35] Who then shall separate us from the love of Christ? Shall tribulation? or distress? or famine? or nakedness? or danger? or persecution? or the sword?[36]
(As it is written: For thy sake we are put to death all the day long. We are accounted as sheep for the slaughter.) [37] But in all these things we overcome, because of him that hath loved us. [38] For I am sure that neither death, nor life, nor angels, nor principalities, nor powers, nor things present, nor things to come, nor might, [39] Nor height, nor depth, nor any other creature, shall be able to separate us from the love of God, which is in Christ Jesus our Lord.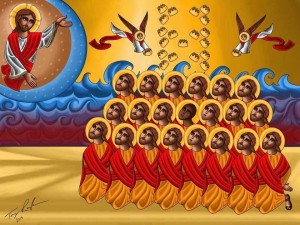 1. Milad Makeen Zaky
2. Abanub Ayad Atiya
3. Maged Solaiman Shehata
4. Yusuf Shukry Yunan
5. Kirollos Shokry Fawzy
6. Bishoy Astafanus Kamel
7. Somaily Astafanus Kamel
8. Malak Ibrahim Sinweet
9. Tawadros Yusuf Tawadros
10. Girgis Milad Sinweet
11. Mina Fayez Aziz
12. Hany Abdelmesih Salib
13. Bishoy Adel Khalaf
14. Samuel Alham Wilson
15. Worker from Awr village
16. Ezat Bishri Naseef
17. Loqa Nagaty
18. Gaber Munir Adly
19. Esam Badir Samir
20. Malak Farag Abram
21. Sameh Salah Faruq
Pray for us
.