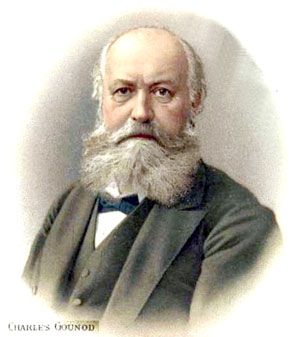 I have loved this Christmas song ever since I first heard it on The Bishop's Wife, but in vain did I struggle to know more about it. In those days, there was no internet, and I could not find out who wrote it, or what it was called, or anything. I even thought it might be an original piece that had been written for the film.
Thanks to Google and YouTube (and eventually iTunes), not only did I find out about it, but I purchased a version of it (but not, alas, the one below). The hymn/anthem is a 19th century piece: the English title is "O Sing to God" and the words were written by Rev. Benjamin Webb. The music (original Title: "Noël: Montez à Dieu") was composed by
Charles François Gounod
(yes, the
Ave Maria
guy). I found this information, and much more, at this site,
The Hymns and Carols of Christmas
.
The thing that makes me really really sad is that there are SO FEW recordings of this hymn! (You know you are truly desperate when you resort to listening to a scratchy 1916 recording on YouTube.) I cannot fathom why some of those great choirs kicking around (King's College, Cambridge, I'm looking at you) have not recorded this piece on any of their Christmas albums. If I'm wrong, please let me know! I've searched high and low online but I can't find any professionally recorded choral renditions. The version I purchased was by French Canadian tenor Richard Verreau, which is simply lovely (indeed, the entire album,
Un Grand Noel Classique
is sublime).
I would love to find a CD or mp3 file of a good children's/boys (or any!) choir singing this piece--the few versions on YouTube are mostly amateur, and leave much to be desired for audio quality. As does the clip from the Cary Grant movie below, delightful though it certainly is.
This arrangement is original to the film, as they do a bit of juggling and omitting with the original lyrics, but it's still extremely beautiful, and gives me shivers every single time I hear it. Enjoy.
The
Robert Mitchell Boys Choir
appeared in other films as well.
.