However you may see him...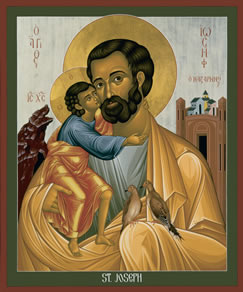 Great Saint Joseph, son of David,
Foster-father of our Lord,
Spouse of Mary, ever virgin,
Keeping o'er them watch and ward:
In the stable thou didst guard them
With a father's loving care;
Thou by God's command didst save them
From the cruel Herod's snare.
Three long days, in grief, in anguish,
With that mother sweet and mild,
Mary Virgin, didst thou wander,
Seeking her beloved Child.
In the temple thou didst find Him:
Oh, what joy then filled thy heart!
In thy sorrows, in thy gladness,
Grant us, Joseph, to have part.
Clasped in Jesus' arms and Mary's,
When death gently came at last,
Thy pure spirit, sweetly sighing,
From its earthly dwelling passed.
Dear Saint Joseph, by that passing
May our death be like to thine,
And with Jesus, Mary, Joseph,
May our souls forever shine.
Melody: Rowland H. Pritchard, 1811-1877
Translation: Louis C. Casartelli
(See that? Text: Slovak. Go, Slovaks!)
.